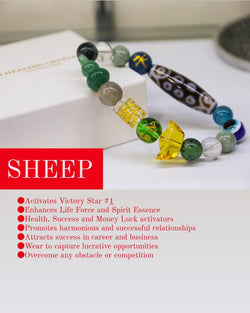 5D Healing Crystals
2023 Sheep Goat Zodiac Bracelet
2023 SHEEP bracelet


Contrary to the belief that the Sheep is the most unlucky zodiac and people born in the year of the Sheep are likely to be a follower rather than a leader, you have the innate qualities of a leader except for the fact that you prefer to stay out of the limelight. Beyond your gentle disposition lies great resilience. 
Those born in the year of the Sheep are gentle and prefer stability in life. Using your creativity and resourcefulness, you like to plan ahead for the future.  You often put yourself in the shoes of others, and you are well-liked for your selflessness. As you tend to think the worst, you are prone to mood swings and indecisiveness. At times, you are too stubborn and defensive.
 
Strengths: Persistent, inventive, considerate, empathetic
Weaknesses: Defensive, indecisive, stubborn, pessimistic
Most compatible signs: Rabbit, Horse, Pig
Least compatible sign: Ox
 
2023 Outlook 
The Achievement Star (三台) will give you a boost in your career and learning. Although you may encounter frequent problems, they will be resolved with help from the Lucky (解神) and Resolution (天解) stars. Be more confident and focus on things that matter. Prone to restlessness under the influence of unlucky stars, try to steer clear of conflicts and disputes. Stay calm and think before you act, and beware of schemers. Pay attention to safety when heading outdoors, travelling or driving.
The SHEEP enjoys a year full of triumphs and victories with the #1 star landing in your sector! In a year when relationships count for so much, you, being the ultimate charmer of the Zodiac, hold a lot of trump cards up your sleeve! Make use of your natural magnetism to win over friends and foes alike. Turn adversaries into comrades, and acquaintances into best friends. You just need to watch out for the Yin House, which can cause your energies to flag; and the Robbery Star, which brings risk of loss. Don't burn the candle at both ends and watch your back with people you don't know well. A lot to look forward to this year!