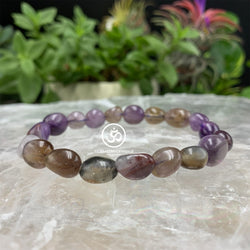 5D Healing Crystals
Amethyst with Cacoxenite Pebble Type Bracelet
These crystals have potent healing properties such as:
They contain Amethyst which is one of the powerful violet flame healing crystals and a number of other excellent minerals that aid healing.
They are well known to help insomnia as they are beneficial crystals to help you sleep better.
By sleeping with one of these stones under your pillow, you may awake feeling a deep sense of peace, harmony and contentment.
There are a number of other healing attributes that they embody, due to the many minerals in the stones, including their action to help you to overcome addictions.
In common with Amethyst Crystals, they are known to assist you to overcome drinking, smoking or drug addictions.
They are also said to have an excellent action to aid respiratory problems and to aid cellular regeneration.
The inclusion of Lepidocrocite in theses stones will help to heal ADHD and hyperactivity, bipolar and other similar disorders.
Other healing actions that it is well known for include aiding healing within the liver, the adrenal glands and the reproductive area, and may help those with depression, including pre-menstrual depression.
It has a good energy to help to prevent hormonal shifts, aid reproduction and help fertility issues, as well as aiding issues relating to digestion and helping thyroid related issues.
It is helpful to keep them close to you for extended periods. If you keep them close, you may find that their energy has a beneficial result, on many levels, for your personal healing.