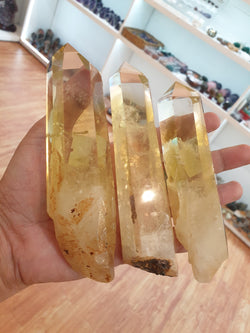 5D Healing Crystals
Citrine single terminated point
Citrine Crystals are well known as potent healing crystals for you to use to aid you to manifest abundance and prosperity, but  also have other properties, including to relieve fear and anxiety.
All of the various colors and types of this golden stone are well known to help you to think more clearly as well as bringing happiness, joy and other positive things and situations into your life!
Its value for

 aiding manifestation of prosperity

, particularly if you combine it with the

 

power of affirmations

It is known to be the

 

premier manifestation stone.
As it is a quartz it has a

 

strong amplification action.
It is quite common to find pieces of this stone selling, so its easy to buy. As its popularity is high, most people are aware of the energy emitted by this lovely yellow stone.