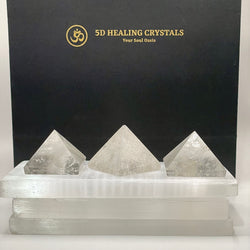 5D Healing Crystals
CLEAR QUARTZ PYRAMID
This Clear Quartz Crystal Pyramid is all about spiritual growth with an organic approach. This soulful stone gets straight to work on spring cleaning your aura, taking away toxic traits, and infusing you with a sense of born-again vibrancy that is deeply rooted in clear thinking always served with a pinch of joie de vivre. While Clear Quartz is certainly serious about putting you on the right track, it doesn't need a heavy hand when aiming to set you straight. It's a stone that understands that water like clarity, crown chakra healing, and bringing out brighter feelings is the fastest way to rile you up. 
For all those wondering what quartz can do spiritually, this crystal pyramid has the answer. Quartz crystal pyramids (whether Rose Quartz, Citrine, or Amethyst) are amazing tools at ensuring you stay grounded even when your mind is riding high. Despite its point connecting to the cosmos, the pyramid itself stays solid and fully grounded thanks to its intricate design. This is exactly the foundational style you need in order to safely leap to all those possibilities offered by the universe. 
Ever ready to protect you against negative energy, the Clear Quartz Pyramid knows exactly how to gather and distribute excess energy, making sure that no matter how high or hard emotions are running, that everything stays balanced and beautiful. Use the Clear Quartz Pyramid in your home for harmony or keep it close by to purify a creative space.
Size: 1.5"/40mm