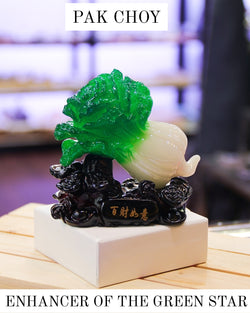 5D Healing Crystals
PAK CHOY TO ACTIVATE THE GREEN STAR
G R E E N P A K C H O Y
H: 4.5 inches
W: 4.5 inches
P650
*CORRECT placement and ACTIVATION guide will be provided.
Good Relationship, Scholastic Luck, Growth and Progress
This Star comes to center stage in 2023, which stands to benefit all in the household with intensified romance luck. Generally, this star also brings about harmony and happiness in all relationships. It is highly auspicious for singles that are searching for love and marriage. It can also augment romance among married couples but there is also a danger of straying for married people during this year.
In addition to love luck, the #4 star is known as the Academic or Creative Star and is thought to bring success to those involved in educational, literary and writing fields so teachers, students and authors are thought to benefit from this auspicious star in 2023.
Pak Choy symbolizes wealth and continuous growth.  Everyone benefits from a boost in growth energy in 2023, when the ruling central star is the #4 Wood Star, a star number that represents growth, progress and development, as well as good relationships and the birth of fruitful alliances. Attract wealth and lucrative opportunities by placing this ACTIVATOR in the correct SECTOR.
The Pak Choy sounds phonetically similar to "fatt choy" which means everlasting growth and prosperity. When pronounced "Pak Choy", it also translates to "100 types of wealth luck". Its succulent and crisp green leaves symbolize growth and are the color of a good harvest. To the Chinese, this represents money and good fortune continuously rolling in from many different directions.