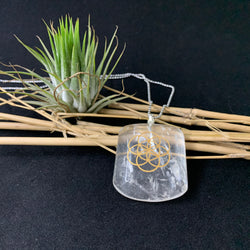 5D Healing Crystals
Seed of life clear quartz pendant
There is no better crystal for manifesting realities, programming intentions or amplifying energies, than a Clear Quartz Stone. It's a bold statement, but this is a bold crystal. We like to think of clear quartz stone as the ultimate rockstar. In the crystal world, keeping up with the Quartz' can be like keeping up with the Jones'—it's hard to match up to a crystal as universally powerful as Clear Quartz. While clear quartz has enjoyed mystical notoriety since the days of ancient Greece, today, it's even used in technology to hold currents of energy.
Clear Quartz stones also bring clarity of the mind, helping you to focus and become clear on your dreams and desires. They assist with spiritual development and with removing any energy blockages that occur in the body. Clear quartz connects to every chakra. It will purify and re-energize your chakric field, so that your mind, your core and your base are all working in harmony at their highest potential. When you are working with other crystals and their meanings, try adding the clear quartz meaning into your combination. It will amplify the energies and magnify your intention.
The Seed of Life is of particular relevance in Christianity as it symbolizes the seven days of creation with its seven overlapping circles. The Tree of Life can be found within the Flower of Life and is associated with the Tree of Life that is referenced in the Book of Genesis 2:9 in the Old Testament.
The Flower of Life is one of the oldest symbols known to man and has represented important meaning to many people throughout history. It can be found in the temples, art, and manuscripts of cultures from all over the world. The Flower of Life has provided deep spiritual meaning and forms of enlightenment to those who have studied it as sacred geometry. There are groups of people all over the world who derive particular beliefs and forms of meditation based (at least in part) on the Flower of Life. Many cultures believe the Merkaba or Flower of Life pattern represents an "interconnectedness" between the wearer and all of life itself. Some say that sacred geometry jewelry with the flower of life can help to to harmonize the chakras.
Size: 33X40mm