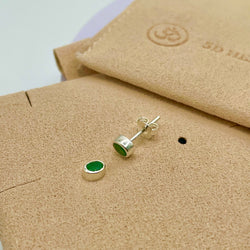 5D Healing Crystals
Emerald Earrings Silver Setting V2
Emerald is a receptive stone associated with the planet Venus, the earth element and honors deities Venus, Isis, Ceres and Vishnu. Emerald has been a source of fascination and reverence in many cultures for over six thousand years. It is said to have been sold in the markets of Babylon as early as 4,000 B.C. The Inca worshiped the stone, and it was highly honored many faiths for its spiritual power and beauty. Revered in Ancient Egypt, and considered a gift of Thoth, the god of wisdom, it was a favorite jewel of Queen Cleopatra. The Emerald mines in Upper Egypt, rediscovered a hundred years ago, are some of the oldest in the world and were called Cleopatra's mines for her love of the stone.
Called the "Stone of Successful Love," Emerald opens and nurtures the heart and the Heart Chakra. A stone of inspiration and infinite patience, it embodies unity, compassion and unconditional love. Emerald promotes friendship, balance between partners, and is particularly known for providing domestic bliss, contentment and loyalty. Emerald is an excellent stone for reviving passion, whether for an interest, a person or a job.
Emerald promotes good self-esteem, and has a calming effect on the emotions. It is a crystal that activates creativity, and brings focus and intensity to one's lifework. It is a healing stone for heartbreak, and provides strength to overcome the challenges in life. It is helpful in clearing away negative patterns and supports personal power by strengthening the physical and emotional heart centers. It is a stone of regeneration, recovery, vitality, love and compassion.
Emerald is an excellent support stone for the workplace. It supports mental prowess, enhances memory and inspires eloquent speech. It is said to aid in success in business matters, and is particularly known for assistance in areas of legal affairs. Emerald is reputed to possess the power to assist one in becoming an eloquent speaker. Aristotle, a great fan of the gem, wrote that owning an Emerald increases the owner's importance in presence and speech during business, gives victory in trials, and helps settle litigation.
Size: 4X5mm