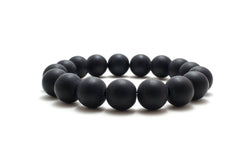 5D Healing Crystals
Matte Onyx
Black onyx also helps to balance yin and yang. It helps us to feel centered, make wise decisions, and get to the root cause of issues. It can assist with logical thinking, as well as intuitive receptivity. Black onyx can give us the strength to look within ourselves, to understand the past, present, and future, and to take charge of our lives going forward. 
Black onyx is also believed to help with issues related to the feet and bone marrow. It has been used to enhance physical endurance, and to provide support in regaining physical strength after an illness.

Use Black Onyx to encourage happiness and good fortune. Black Onyx is a strength-giving stone and can provide support for self-discipline issues. Because it helps to hold physical memories, Black Onyx can be useful in healing old wounds or past life issues.

Black Onyx is wonderful for meditation and dreaming. When using Black Onyx for either of these purposes, it is recommended to use a secondary grounding stone in combination with the Onyx. Black Onyx helps one to become master of their own future.
Onyx gives strength. It promotes vigour, steadfastness and stamina. Imparts self-confidence, helping you to be at ease in your surroundings. Onyx banishes grief, enhances self-control and stimulates the power of wise decision-making.
Black onyx crystals can be used for grounding, protection, and self-control, and as a shield against negative energy. It also enhances discipline, allowing more ease in following through on goals and completing tasks. Black onyx has a calming quality, which can be beneficial in working with challenging emotions such as grief and anxiety.