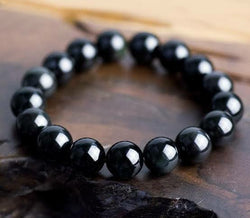 5D Healing Crystals
Obsidian
Obsidian is truth-enhancing. A strongly protective stone, it forms a shield against negativity. It blocks psychic attack and absorbs negative energies from the environment. Obsidian draws out mental stress and tension. 
OBSIDIAN
THE MIRROR
SELF-REFLECTION • PROTECTION • GROWTH
If you find yourself drawn to the Obsidian crystal stone and its intense, mysterious vibes, it could be a sign that you're in need of a deep psychic cleanse. Known as the "psychic vacuum cleaner," the Obsidian crystal is your spiritual maid service, working hard to clean up the emotional wreckage and debris from the past. A bodyguard to your soul, the Obsidian crystal stone also protects you from shadow traits -- addiction, fear, anxiety, and anger-- by acting as a mirror to your inner self.