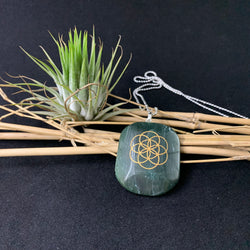 5D Healing Crystals
Seed of life aventurine pendant
Aventurine (Stone of Opportunity) thought to be the luckiest of all crystals, especially in manifesting prosperity and wealth, or for increasing favor in competitions or games of chance. Its winning energy makes it a great ally for boosting one's chances in any situation - a first date, tax audit, even landing a promotion. One needs only to be near it to derive its benefits. It is said to increase perception and creative insight. Green Aventurine releases old patterns, habits and disappointments so new growth can take place. It brings optimism and a zest for life, allowing one to move forward with confidence and to embrace change. It enhances one's creativity and motivation, and encourages perseverance in maneuvering life's obstacles. It also reinforces one's decisiveness and amplifies leadership qualities, injecting a sense of humor and openness to the ideas of others Wear this for prosperity, especially involving games of chance. Worn with love stones it will enhance your chance of finding lasting love.
The Seed of Life is of particular relevance in Christianity as it symbolizes the seven days of creation with its seven overlapping circles. The Tree of Life can be found within the Flower of Life and is associated with the Tree of Life that is referenced in the Book of Genesis 2:9 in the Old Testament.
The Flower of Life is one of the oldest symbols known to man and has represented important meaning to many people throughout history. It can be found in the temples, art, and manuscripts of cultures from all over the world. The Flower of Life has provided deep spiritual meaning and forms of enlightenment to those who have studied it as sacred geometry. There are groups of people all over the world who derive particular beliefs and forms of meditation based (at least in part) on the Flower of Life. Many cultures believe the Merkaba or Flower of Life pattern represents an "interconnectedness" between the wearer and all of life itself. Some say that sacred geometry jewelry with the flower of life can help to to harmonize the chakras.
Size: 33X40mm